7 Can't-Miss Events in Sioux Falls
No matter the season, there sure are plenty of big events upcoming to keep the fun going. Mark your calendars to explore all that Sioux Falls has to offer!
Eastbank Block Party
The Downtown Eastbank Block Parties have been a favorite among both locals and visitors for many years. These free monthly events during the summer provide live music, games, food trucks, and beverage vendors. Check out the next Eastbank Block Party, July 1 at 8th & Railroad Center.
Sioux Falls Independence Day Parade & Picnic
The City of Sioux Falls will hold its annual Independence Day celebration on Monday, July 4 with a parade downtown starting at 10am followed by a picnic at Falls Park at 11am with free lunch served for the first 3,000 attendees.
Sioux Falls Fireworks
End your 4th of July in proper fashion with a fireworks display at the W.H. Lyon Fairgrounds. This is a free event that will also include other entertainment leading up to the fireworks display such as musical performances, a military aircraft flyover, and more.
Innoskate Festival
Levitt at the Falls, in collaboration with The Smithsonian's Lemelson Center for the Study of Invention and Innovation, and USA Skateboarding, are creating a one-of-a-kind Innoskate festival that brings skateboarding and local communities together. Held July 7-9, Innoskate will include skate demonstrations with professional skaters, panel discussions with Olympic skaters, mobile skatepark, best trick contest, art exhibitions, concerts, and so much more.
Wagon Wheel: A Celebration of Whiskey & Wine
JJ's Wine, Spirits & Cigars is putting brings Wagon Wheel: A Celebration of Whiskey & Wine to the W.H. Lyon Fairgrounds, July 8. Enjoy samples from a variety of whiskey and wine, including both familiar favorites and new products. Plus, don't miss a concert by country music artist Jon Pardi!
Hot Summer Nites
Hot Summer Nites brings out many car enthusiasts every year. This year's event will be held July 13 at the W.H. Lyon Fairgrounds. This car show is Corvette specific as hundreds of Corvettes from across the country will be there to show off. Enjoy music, food trucks, and more.
Hot Classics Night
The 5th Annual Hot Classics Night has become a local favorite event for classic cars. Walk the streets surrounding Nyberg's Ace Downtown on July 23 as you admire the cool muscle cars.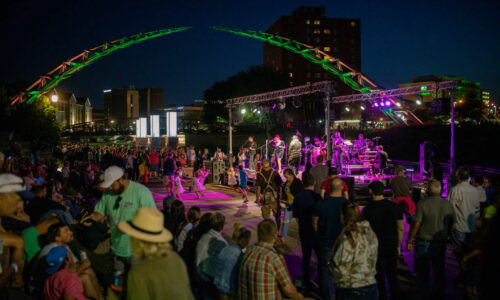 Mark Your Calendars
This is just a sampling of events coming up but our calendar is full all year long with fun events!
View Full Calendar