What's New in Sioux Falls
New Attractions
Arc of Dreams
This massive stainless-steel sculpture debuted in 2019. The Arc, designed by renowned South Dakota artist Dale Lamphere, spans the length of a football field and rises 85 feet above the Big Sioux River. The design features two open steel structures with a ribbon effect and a 15-foot gap at the center representing the leap of faith dreamers take to see their dreams come true. The Arc has become a permanent part of the world-renowned annual SculptureWalk.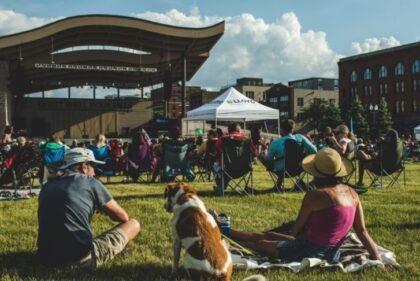 Levitt at the Falls
Live music fans, rejoice! Levitt at the Falls is an outdoor music venue that opened in downtown Sioux Falls in 2019. Levitt at the Falls hosts 50 free concerts during the summer months that feature a variety of music genres. Guests are welcome to bring their own lawn chairs, or rent some onsite. Beverages services are also available for purchase. Only 40 concerts will be featured in 2021 due to the COVID-19 pandemic.

Great Shots
This three-story golf facility at the Sanford Sports Complex opened in 2019 and it has been a hit in the Sioux Falls community since day one. Both experienced and inexperienced golfers can enjoy an outing at Great Shots with a variety of fun gameplay options from each bay.

Thunder Road
Thunder Road has long been a summer entertainment staple in Sioux Falls, but a new indoor facility is now allowing them to stay open year-round. In addition to outdoor activities such as go-karts, mini golf, batting cages, and more, guests can now enjoy indoor activities like bowling, axe throwing, arcade, a two-story laser tag arena, a 7D theater, and an onsite restaurant.
Lake Lorraine
Lake Lorraine is a new development on the west side of Sioux Falls that is home to shopping, dining, and lodging, along with more entertainment coming such as Dave & Buster's. The development has steadily grown each year adding new options for the public to enjoy. Shop from national retailers such as Kirkland's, HomeGoods, Hobby Lobby, Marshalls, and more.
State Theatre
The iconic State Theatre in downtown Sioux Falls has come back to life! A massive restoration has allowed the State Theatre to begin showing films again in its historic building. Whether you are looking for an activity for the whole family or planning a date night, this is a must-add for your list.
Frontier Climbing & Fitness
Frontier Climbing accommodates all skill levels, whether you are a beginner or a seasoned veteran. With varying degrees of difficulty, the staff at Frontier will help guide you on one of their climbing walls to make things challenging, yet attainable for you.

New Food & Drink
Covert Artisan Ales
The expansive craft brew scene in Sioux Falls has grown by one more with the recent addition of Covert Artisan Ales. This downtown brewery has excelled when it comes to brewing sour beers, and they are constantly rotating their tap lines with new beers. View the full list of Sioux Falls area breweries.
Highball
Both locals and visitors to Sioux Falls have a new cocktail bar to enjoy downtown. Highball is a swanky cocktail lounge whipping together some fantastic drinks. They even have a few small bites to enjoy while you sip on your favorite adult beverage.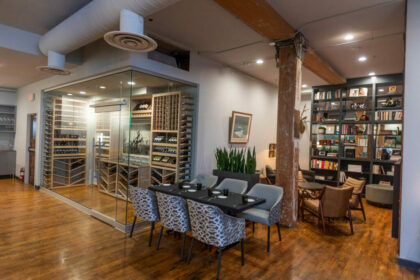 Harvester Kitchen by Bryan
One of the newest hotspots in Sioux Falls is Harvester Kitchen by Bryan. Chef Bryan Moscatello moved here from Washington, D.C. and opened up this fabulous eatery offering a unique dining experience with themed areas of the restaurant designed to look like the different rooms in a house.
Glacial Lakes Distillery and Brewhouse
A Watertown, SD based distillery has opened a taproom in downtown Sioux Falls. Sample their vodka, gin, rum, bourbon, and brandy, or enjoy them in a cocktail. Glacial Lakes Distillery and Brewhouse also has local beers on tap.
Diners, Drive-Ins and Dives
Sioux Falls was featured on Food Network's Diners, Drive-Ins and Dives in 2021. This was the first time South Dakota had been featured on the show. Guy Fieri and his crew visited several restaurants in the area.
New Hotels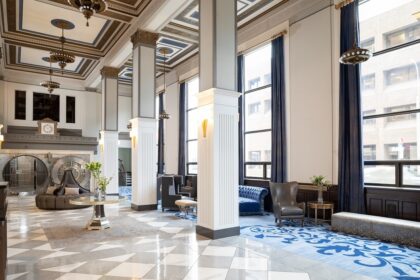 Hotel On Phillips
This is the newest hotel in downtown Sioux Falls, and it has opened with a bang. Hotel On Phillips is a boutique property that has taken the space of a former bank, while paying homage to the building's history with features such as the original bank vault door in the lobby as the entrance to The Treasury. Hotel On Phillips offers magnificent views of downtown and the Big Sioux River with its chic room types.
GLo Best Western
GLo Best Western is a modern hotel that sits in the Dawley Farm development on the east side of Sioux Falls. This property features a thoughtful contemporary design with bold and expressive aspects throughout.
Hyatt Place Sioux Falls South
The Lake Lorraine development on the west side of Sioux Falls is home to Sioux Falls' newest hotel. Hyatt Place offers the perfect ambiance that blends action and relaxation. Guests can take in a sweeping view of the lake from their room, or enjoy it from the property's patio space while sipping on a beverage.
Staybridge Suites Southwest
Staybridge Suites Southwest is conveniently located near interstates 29 and 229, allowing easy access to anywhere in the city, including plenty of nearby options for shopping and dining. Relax and unwind by the fire pit in the outdoor living space during beautiful evenings.
Get The Latest
Stay up-to-date with all the newest happenings in Sioux Falls by signing up for our free email newsletter!
Sign Up