5 Desserts to Die For in Sioux Falls
Maybe you've heard about a few of our 700 restaurants in Sioux Falls? This makes our city one of the best kept secrets in the Midwest foodie scene. But we're sure you haven't heard of all the amazing places to score a gourmet dessert. Oh yes, we got the sweet treats you want.
Satisfy your sugar craving with a bite (or an entire helping) of these delicacies!
Oh My Cupcakes!
Oh My Cupcakes! owner Melissa Johnson and her Cupcake Ninjas start their days at 4 a.m., baking rich, velvety cupcakes from scratch. Featured twice on the Top 50 Cupcake Shops in America, this cupcakery isn't afraid to venture outside the vanilla and chocolate realm. Take their limited-time Miner Brown Ale Chocolate cupcake, for example. "It's chocolate with a generous amount of Miner Brown Ale infused into the batter, topped with salted caramel buttercream and a house-made beer brittle," says Melissa. "So yummy!" Traditional flavors, like their top-seller Pleasantville, are just as good. "It's a great vanilla bean cake with vanilla bean buttercream," says Melissa. "Though it may sound a tad "safe", it's actually quite rich and delicious!"
"Our cupcakery is filled with love, the smell of cupcakes and lots of smiles. We put lots of thought and time into creating a great dining experience for our guests."

Melissa Johnson, Oh My Cupcakes!
Paramount Studio Cocktails & Food by Minervas
A fancy cocktail (or glass of wine) and dessert go hand-in-hand at the posh Paramount Studio in downtown Sioux Falls. On Friday and Saturday nights, you can also pair your dessert with a taste of the local music scene. A must-try is their key lime pie drizzled with vanilla bean sauce. Did we mention it's made from scratch, too?
Queen City Bakery
Walk into Queen City Bakery, and you may be overwhelmed by the number of sweet treats (and even savory ones, like their mouth-watering quiche selections). While every baked item, from biscotti to turnovers, are to die for, their cookies take the cake. These are not your mama's cookies. Take a bite of their S'mores cookie, and flashback to campfires and ooey gooey marshmallow and chocolate goodness. During fall and winter, sample their ginger molasses cookie, which is oh so soft and filled with the spices of the season, including crystallized ginger.
CH Patisserie
Once you've had a French macaroon from CH Patisserie, your new goal will likely be to try all the flavors of the macaroon rainbow, like salted caramel and nutella. You'll likely even be convinced that nobody makes macaroons quite like Chris Hammer. He is a World Champion Pastry Chef, after all. This patisserie has European delicacies of all kinds, like petit gateau selections and assorted homemade candies. Or, take a seat in their delightful dining to try the beignets and ham and cheese croissants with a warm cup of coffee during weekend brunch.
R Wine Bar & Kitchen
Hello, heaven on a plate! Dessert should be the first course at this classic wine bar. The chefs at R Wine Bar & Kitchen make tiramisu right in house. Not only will you enjoy hints of coffee and cocoa, but the delicate layers of ladyfingers and creamy mascarpone cheese custard will melt in your mouth. While you're at it, you may as well get a glass of wine to accompany your dessert.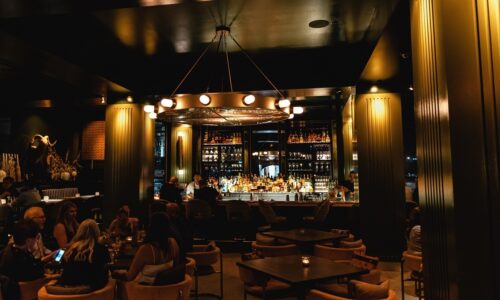 Discover More Dessert Options
Sioux Falls is full of top-tier dessert options, from ice cream to baked goods.
View More