10 Cheap or Free Things to Do in Sioux Falls
Enjoying a day out with your family doesn't have to be expensive. We've compiled a list of some of our favorite things to do, and most include activities for kids of all ages. And the best part? All of our suggestions can be enjoyed for under $20 for a family or even completely free.

1. SculptureWalk & Arc of Dreams
Set time aside while you are downtown for a self-guided walking tour of our SculptureWalk. This year-round public art display includes over 50 sculptures scattered throughout downtown for you to admire.

Be sure to also check out the capstone of SculptureWalk, the Arc of Dreams. This massive sculpture spans the length of a football field across the Big Sioux River and is beautifully illuminated at night.

2. Disc Golf
Spend an afternoon on one of our city's disc golf courses. Play 18 holes at Tuthill Park, or 9 holes at Spencer Park and Tomar Park, all offering beautiful scenery as you play.
3. Pettigrew Home & Museum
See what life was like in the late 1800s and early 1900s at the Pettigrew Home & Museum. The former home of South Dakota's first senator, R.F. Pettigrew, has since become a museum showcasing the artifacts and furniture of that era. There is no cost for this museum.
4. Levitt at the Falls
Enjoy a free outdoor concert in downtown Sioux Falls during the summer months. Levitt at the Falls brings 50 concerts over a wide variety of genres to entertain people of all ages. Bring your own lawn chair or rent one onsite. Feel free to bring your own meal to a concert; beverage services are available for purchase.
5. Eastbank Block Parties
The first Friday of every month is recognized in downtown Sioux Falls with sales at stores, but the first Friday in June, July, and August is even more special with Eastbank Block Parties happening on these days. This free event at 8th & Railroad Center includes live music, games, food trucks, and beverage vendors available. Mark your calendars because you won't want to miss these events!
6. Hiking
Explore the hiking trails at one of our many different parks in the area, including two state parks. Each park offers a unique scenic trail system with easy walking trails as well as some more difficult trails for those looking for some incline. The two state parks require a small daily entrance fee, but all others are free to enter.

7. Falls Park
You will be happy to know that Sioux Falls' number one attraction is completely free! Take in the views and sounds of the roaring Big Sioux River at Falls Park as the water crashes over the pink Sioux quartzite. Walk around the park and check out each lookout spot and be sure to make your way to the top of the five-story observation tower.

8. Bike Trail
An underrated activity in Sioux Falls is the Big Sioux River Recreation Trail, otherwise known as the Bike Trail. Many people will be seen biking, but the trail is also open for walking, running, or rollerblading. Cruise around the city on over 34 miles of pavement as the trail follows the course of the Big Sioux River. You can rent a bike from one of several local shops if you don't have one with you.

9. City Pools
Cool off in the summer at one of the eight city pools. Whether you are looking to just relax in the water or looking for drop-in slides, we have it all. Daily admission rates will vary based on age, but it's no more than $6.
10. Sertoma Park
Needing a place to let the kids burn off some energy? Sertoma Park is your spot. This park features several playgrounds, a climbing structure, and plenty of open space to run around. There is even a large, covered shelter for a picnic.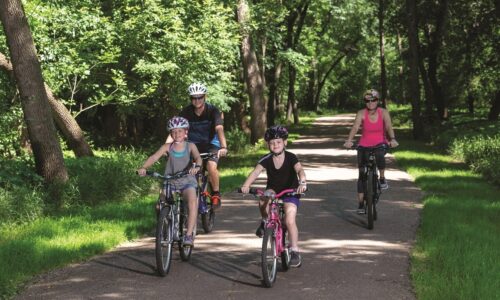 Free Attractions & Activities
Some of the activities above are free, but how about a list of ALL free things to do?
Read More